Is My Pet Safe? Maybe not for you
Pets, as a general rule, do not transfer diseases to humans, though earlier we covered one example, brucellosis Other exceptions include a number of "worms" that are communicable, as well as campylobacteriosis, E. coli and Salmonella. Today another is added to the list: mcr-1–harboring E. coli
full article »
published on August 19 2016
Category:
medical
-
Tags:
e-coli
,
mcr-1
,
cre
,
raw
Dog Days of Summer: Heat Exhaustion
The National Weather Service has issued an excessive heat warning for this weekend.
* Heat index values Fri-Sun... 105 to 110 degrees.
* Impacts... the combination of the heat and humidity will increase the risk for heat related health issues... especially for the elderly... those with chronic health problems such as lung and heart disease... those working outdoors... and other heat sensitive groups of people.
It is great that the weather service puts out these alerts, but what group is conspicuously missing? Pets!
full article »
published on August 12 2016
Category:
medical
-
Tag:
hyperthermia
Helping Blind Animals
Pearl, a blind sheep from Australia wearing a Halos For Paws vest
Credit: Possom Valley Animal Sanctuary
Animals with handicaps face a more challenging situation than their human counterparts who often have a wide network of support from friends, family and various charities and government agencies. What little financial and medical aid that is available can be spread so thin that most receive no help at all. The vision-impaired are particularly hard hit as corrective surgery, if possible, can cost many thousands of dollars. The perception of blind animals being poor pets that require significant assistance often results in their placement at the top of shelter kill lists. Yet, the vision-impaired or blind animal can be a good pet and with a little human assistance, they can lead a fairly normal life.
full article »
published on July 27 2016
Category:
medical
-
Tags:
halo
,
halovest
,
blind
,
muffinshalo
,
haloforpaws
Zika Virus: Don't Panic!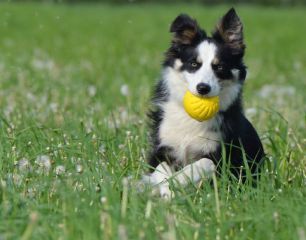 Attention to the Zika virus is picking up again in the run up to the summer Olympics being held in Brazil, the current ground zero of this mosquito borne infection. There was also a confirmed report this week out of New Jersey. Should pet parents be concerned?
full article »
published on June 2 2016
Category:
medical
-
Tag:
zika
---

This site was made with Bolt
©Ismypetsafe.com, ©Leading Order Solutions unless otherwise noted