Don't Do The Twist
Do you have a large dog? One with a relatively narrow waist and a deep chest? These dogs, and those with a narrow and deep chest in particular, are at risk of having a twisted stomach. This is a potentially life threatening condition and pet parents should know the syptoms and risk factors.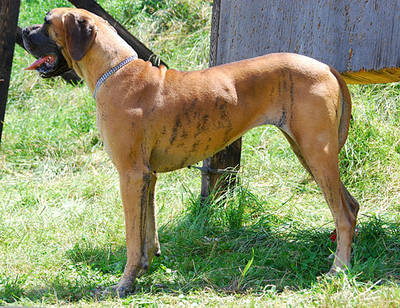 A twisted stomach is the most serious instance arising out of gastric dilation/volvolus (GDV). GDV is, in simple terms, a serious case of gastric bloat. Though there is no known reason why it seems to affect larger dogs far more than others, it can be treated if caught quickly.
Symptoms to watch for:
abdomen is enlarged
whimpering or whining
pacing
salivating
trying to burp or throw up
fainting

Breeds thought most at risk:
Great Dane
St. Bernard
Irish Setter
Weimaraner
Standard Poodle*
* Includes any designer variants such as a large Goldendoodle
Even though the risk of a dangerous case of bloat is much less in other breeds, pet parents need to be aware of the symptoms as it is still possible for their pet to be affected.
The Danger
Once a case of bloat moves past "mild" (which can be treated by giving Gas-X or a similar product,) the stomach continues to expand and puts pressure on both the heart and lungs. This can result in a reduced flow of blood into the heart and spleen, possibly triggering a heart attack. In an extreme case, the stomach itself can burst from the built up interior pressure. To alleviate this dangerous situation, a vet may try to relieve the pressure within the stomach by puncturing it with a special needle to release the gas.
The "twisted" variant occurs when the stomach rotates around its support ligaments. This isolates the esophagus and cuts off the flow of blood in the stomach and other nearby organs. At this stage, emergency surgery is required or death will come quickly, probably from heart attack.
Reducing the Risks
A number of steps can be taken by pet parents to minimize the likelihood of the development of dangerous bloat:
feed multiple small meals rather than one large one
do not elevate food dishes (though researchers have gone back and forth on this point)
limit exercise prior to and and up to two hours after meals
do not allow your dog to guzzle water
pre-wet dry food so it expands prior to reaching the stomach
feed nightly meals earlier to increase the chances of observing signs of bloat prior to your bedtime
However, though there is no certainty that doing all of these will prevent a case of twisted stomach from developing, following these suggestions is considered advisable by most veterinarians.